Sunset Celebration at Mallory Square
Sunset Celebration at Mallory Square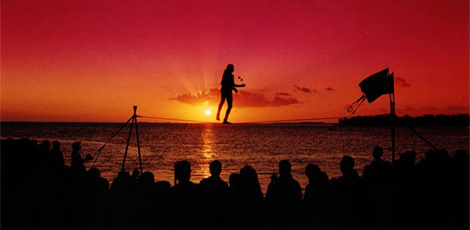 The Mallory Square Sunset Celebration is one of Key West's most well-known attractions. Originally begun in the late 1960s as a stoned-out hippie ritual, the gathering of locals and visitors to enjoy the unobstructed sunset view from Mallory Pier is now an island institution that draws thousands every evening.
Mallory Square has been a hub of commercial activity in Key West since the 1820s, and is loaded with history. Over two hundred years ago, pirates anchored in waters off the shoreline that later became the Key West Harbor and site of the commercial plaza and warehouse district named after Stephen Russell Mallory, a United States Senator in the 1850s and the youngest son of the first European female settler in Key West.
For many years, sea-going activities out of the island centered on the Square and nearby harbor. Mallory Square has hosted sailors from the U.S. Navy anti-piracy campaign of the 1820s, Key West wreckers selling salvaged goods from shipwrecks, and American soldiers and sailors shipping out to war.
Town folk and visitors gathered at the Square daily to exchange news and gossip, and many imminent figures including John Audubon, Mark Twain, Tennessee Williams, and Ernest Hemingway enjoyed the sunset views offered there.
Now, the nightly gathering to view the colorful Key West sunset from the historic Key West waterfront draws visitors from all over the world. You will find artists, clowns, fishermen, food vendors, jugglers, musicians, psychics, tourists, and friends celebrating nature's finale to another day in paradise.
Sunset at Mallory Square is a lively multicultural scene and nightly party that has something for everyone. The sight of the sun sinking into the sea amidst an amazing, ever-changing cloudscape is a unique island event that must be part of any Key West visit.
Read More