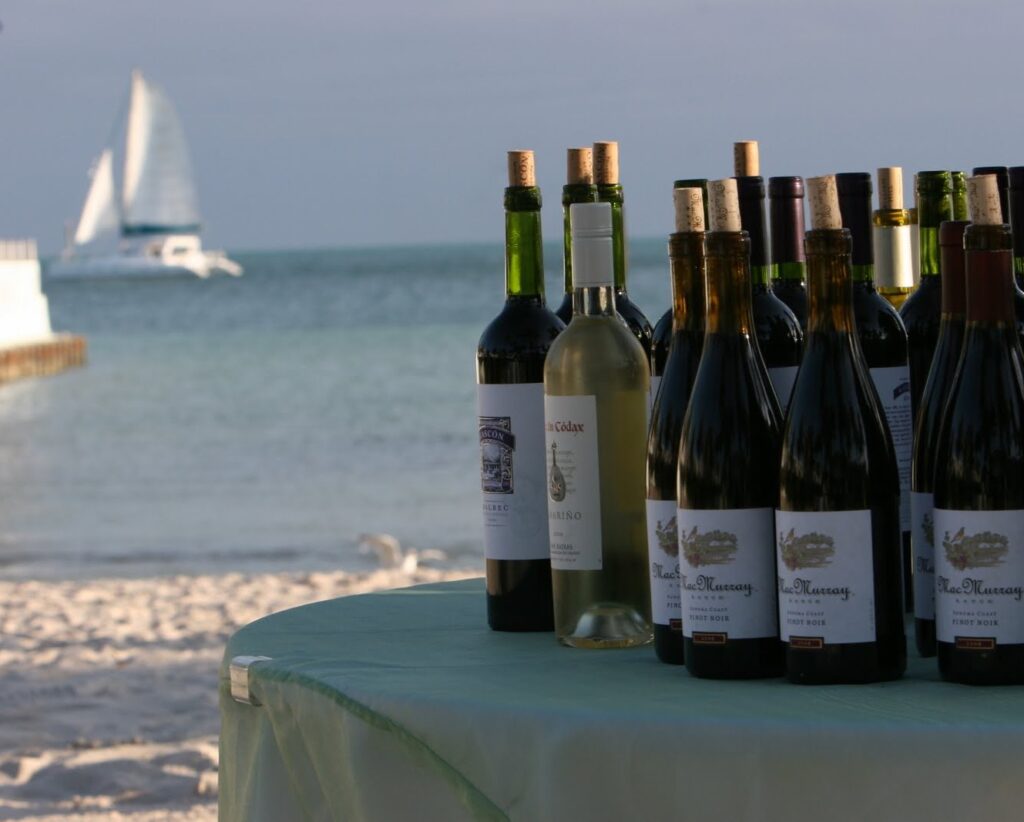 Winter in Key West is the busy season as frozen northerners flock to the island for a tropical respite to tide them over until the spring thaw hits. With arctic blasts and record cold spells covering much of the continental US this winter, and even reaching down into Florida, there is more reason than ever to plan an escape to paradise. But good weather is not the only thing happening on the island in January. Several large-scale special events run through the latter part of January and offer Key West visitors a chance to add some special highlights to their island trip.
The 2014 Key West Food and Wine Festival runs from January 22 to the 26th, and is the event of the season for those who revel in excellent wine and delicious food. From the kickoff in the hospitality suite on the morning of the 21st, to the 20th annual Master Chef's Classic on the afternoon of the 26th, this festival is nothing but 5 days of feasting, friends, and fun as you walk about, talk about, learn about, and enjoy great wine, amazing cuisine, and incredible vintners and chefs in the kind of party atmosphere that only Key West can put on. Wine, beer, and liquor tastings, gourmet food and wine seminars, competitions, parties, and feasts all vie for participants' time in a packed schedule that fills each day from (not too early!) morning until late night. From barefoot beach parties to Cuban-style pig roasts, Key West shrimp boils, and Duval Street wine tasting crawls, this is a true tropical bacchanalia and is a perfect excuse to spend a week thawing out and unwinding in Key West.
Sailing fans and wannabe yachties alike can have a ball at the 27th annual Quantum Key West Regatta, in town from January 19 – 24.  Beginning with the skippers' meeting and welcome reception on the 19th, the event features 5 days of racing with some of the most amazing yachts and crews in the world starting daily out of Key West harbor. The big 70-foot boats of the Mini-maxi class will inspire awe with their speed, power, and sheer size, while action will be fast and furious in the 52-foot class with an international fleet of 6 boats manned by some of the world's top racing professionals.  This US SAILING-sanctioned event sponsored by high-performance sailmakers Quantum Sails includes the IRC 1, 2, and 3 classes along with the exciting J-classes, which draw some big fleets, like the 62-boat flotilla in the J/70 class, and promise some spectacular racing action. The racing will be conducted offshore under permit in the Florida Keys National Marine Sanctuary, but there are plenty of options for fans who cannot be out on the racecourse. Live twitter, blog, and video coverage will follow the action, and of course just being on the scene, checking out the boats and sponsors, and mingling with the crowds will offer some great nautical fun.
If you still have time in your Key West schedule, the Stock Island Marina Village King Mackerel Tournament runs from January 24th to the 26th. A fleet of elite anglers will go out after the big King Mackerel that migrate to Key West waters each winter, with each fisherman looking for the biggest fish and the $10,000 dollar purse that goes with it. Charter a boat and join the fun on an amateur basis, or follow the action at the daily weigh-ins and dockside parties. Non-fishermen may want to set aside January 25 – 26 for a visit to the 29th Annual Key West Craft Show. This free event features more than 100 jury-selected artisans and crafters who display the fruits of their talents in historic old Key West on lower Whitehead and Caroline Streets. Expect beautiful displays of pottery, fabric, glass, wood, jewelry and other colorful handmade works to be on display from 10 a.m. to 5 p.m. daily.
From wind to wine, fine arts, fair weather, friendly folk, and fishing fun, Key West has got it going on in the depths of winter. Come on down out of the chill and be a part of it all!
Read More