Inside a Key West Classic – The San Carlos Institute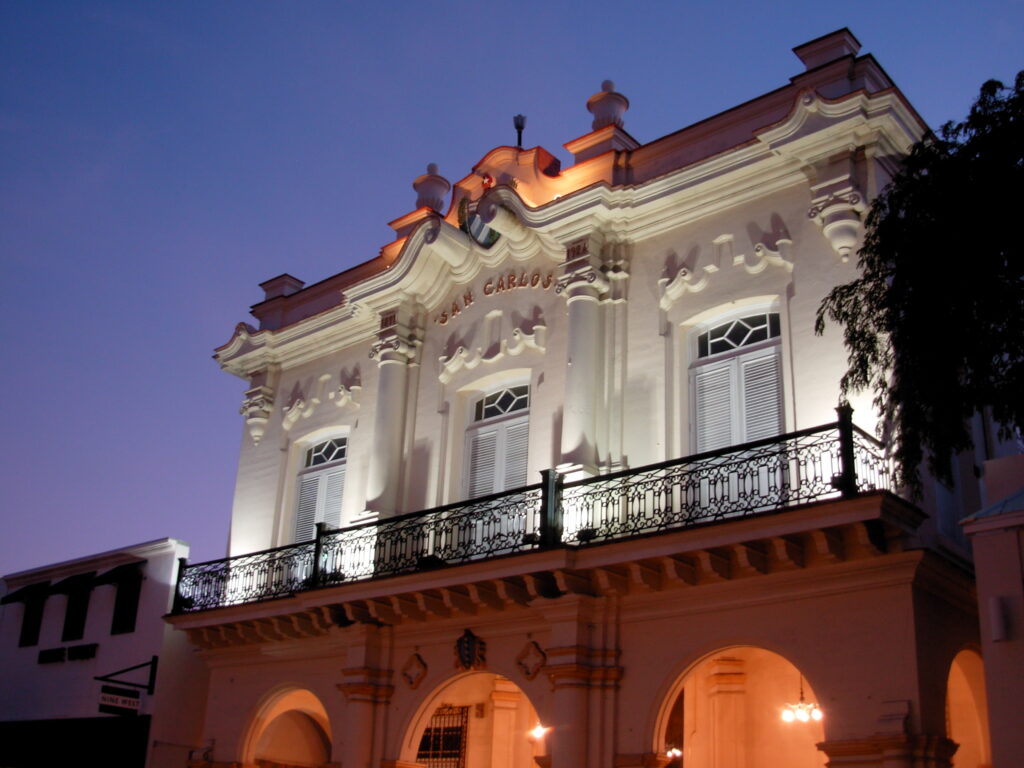 Key West is known as a sun-and-sand party town where Water Sports, shopping, dining, and Partying are the draws that pull millions of tourists every year. However, the island does have a more refined side that is cherished by many locals even if it is missed by most visitors: a thriving theater and concert scene that offers many opportunities to enjoy world-class performances in venues that are steeped in historical charm. The San Carlos is one such island performance hall, and a visit will surely provide a generous helping of historical interest and architectural beauty along with an enjoyable evening of performing arts.
The Key West Council On The Arts puts on a yearly series of impromptu classical concerts that gives islanders a chance to see nationally renowned artists without leaving the confines of this tiny city. Many of these events take place at the San Carlos Institute, an important Florida and Key West cultural landmark for over 100 years. Founded in 1871 by Cuban exiles as an educational, civic, and patriotic center, the San Carlos became the center point of the Cuban struggle for independence from Spanish colonial rule.
Named after Cuba's Seminario San Carlos, a renowned institute of higher learning where Cuban educator and humanitarian Father Félix Varela planted the seed of Cuba's independence movement among his students, the original institute was located in a small wooden building on Anne Street. The San Carlos moved to a larger building on Fleming Street in 1884, and when that building burned down in the fire of 1886 that destroyed much of Key West, Civic leader Martin Herrera led efforts that rebuilt the San Carlos in 1890 at its present location on Duval Street in the heart of Key West.
Within a few years, José Martí, Cuba's legendary patriot and poet, and many other key figures of Cuba's independence movement were using the San Carlos as a venue to address and gather the Cuban exile community into a coherent independence movement. Martí addressed a crowd of thousands of Cuban patriots at the Institute in 1892, leading to the formation of the Partido Revolucionario Cubano, which represented the ideals and aspirations of a united exile community in planning and organizing the War of Independence that led to Cuba's liberation from Spanish rule.
The Cuban community revered the building as a historical and cultural treasure, and after it was destroyed by a hurricane in 1919, immediate efforts were made to rebuild it. Work by community leaders and supporters and a design by Francisco Centurión, one of Cuba's most prominent architects, resulted in the present two-story building that incorporates many traditional elements of Cuban architecture: spacious, high-ceilinged rooms, louvered windows, graceful arches, marble stairways, hand-crafted mosaics, and floors of checkered Cuban tile. The building was magnificent, and after reopening on October 10, 1924 the Institute was referred to by many as "The jewel of Key West."
The San Carlos continued operating as a school, and its tradition of academic excellence produced graduates who assumed important posts in the private and public sectors. However, when the communist dictatorship seized power in Cuba in 1959, financial assistance from the Cuban government was cut off. The Key West local community was not able to maintain the aging building, and the school closed in 1973 after being condemned.
The building was neglected for almost two decades, and nearly lost to demolition before a last-ditch effort managed to save it as a Cuban historical landmark in 1985. After an extensive fund-raising campaign and mobilization of public and political support, the San Carlos was lovingly and faithfully restored to its original beauty and decorated with many works of art depicting Cuban historical figures. The Institute reopened on January 4, 1992, exactly one hundred years from the day José Martí gave his first address at the Institute.
The San Carlos now serves as a shrine and place of pilgrimage where Cuban people celebrate their heritage. The Institute is visited by thousands yearly, and also hosts many important cultural, historical, and artistic events throughout the year. An evening or afternoon concert at the San Carlos is two treats in one, and a highly recommended outing for anyone with a love for both classical architecture and music.
Read More