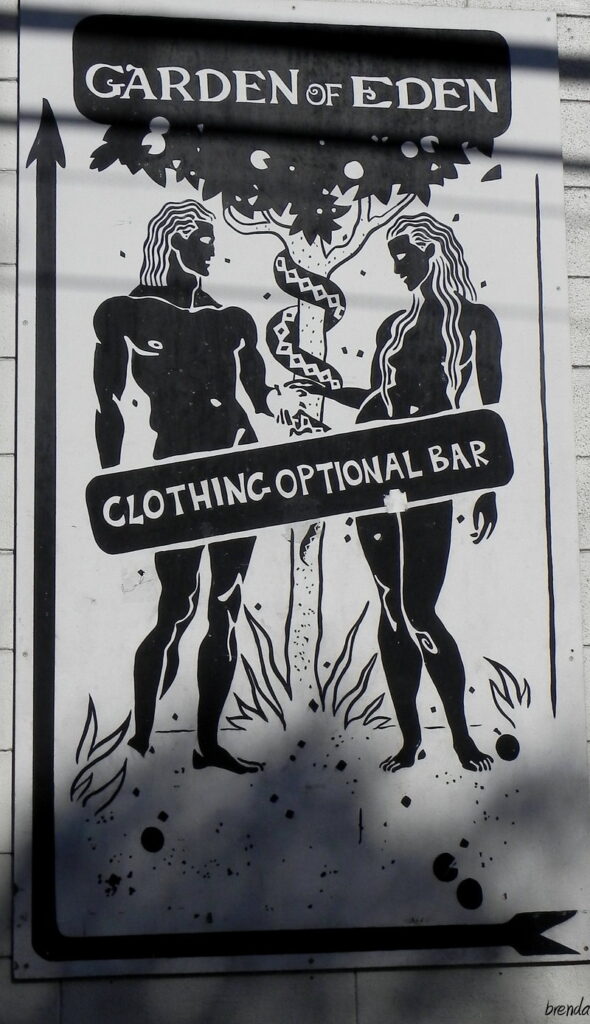 Perhaps due to its history as a free-wheeling port city on a remote island, Key West has long been a place where tolerant, liberal attitudes set the tone for eccentric, creative lifestyle choices. The island has always hosted multiple racial and cultural groups, a mix of seafarers and landlubbers, travelers and permanent residents, fishermen and factory owners, businesspeople, pirates, smugglers, and rumrunners. In the modern era, Key West has been a magnet for artists, iconoclasts, hippies, gays, and lesbians since at least the late 1960's.
As an accessory to or upshot of all of this, in Key West, naturist and clothing-optional facilities and activities are a big part of the urban scene. On many days in town, especially around the big festival dates like Fantasy Fest, it will be hard to move through the crowds without being "exposed" to various degrees and types of nudity. However, in general, things are not quite as "free" in Key West as one might think. There are, for example, no nude beaches on the island, and even topless sunbathing in the public realm is confined to a small section of Higgs Beach. The best bet for the naturist visiting Key West is to take advantage of the many private venues that support clothing-optional playing and partying.
Many of the most popular clothing-optional hotels in Key West are near Duval Street. If you are planning to visit one, it is mandatory to look into the details of the accommodation before booking. Some properties cater exclusively to males, others to females; some are primarily gay-oriented while others draw a mixed crowd; there are places that offer clothing-optional policies throughout the property, while others permit nudity around the pool area, or have a designated sundeck for clothes-free tanning. Here are some of the better-known of the Key West naturist hotels.
The Island House on Fleming Street is one of Key West's most well-known all-male gay guest houses. The Island House is luxury-style clothing optional, has a fun pool area, a mist-cooled sun deck, and many other amenities. The staff is very attentive and the happy hour drinks are free. The location is good for accessing the Key West party scene, but many guests spend their entire visit on the Island House grounds.
Olivia by Duval on Olivia Street offers a good location within walking or biking distance of Mallory Square, Duval Street, and Zachary Taylor State Beach. It is a pet-friendly guest house, with some full-kitchen suites available. The outdoor swimming pool and sun deck are adults-only and clothing-optional.
The Pilot House is a restored Victorian-era mansion right in the middle of Old Town Key West on Simonton Street. Fourteen suites offer full-kitchen facilities, and clothing-optional policies are liberal around the lush and private tropical gardens, outdoor pool, and hot tub. Duval Street and several public beaches are within walking distance.
The La-Te-Da on Duval Street is a bar, restaurant, and hotel with a 30-year history as one of the most vibrant and iconic in Key West, and a clothing-optional sun deck. The resort features luxury surroundings and a choice of luxury, deluxe, or standard rooms. Amenities include an outdoor swimming pool, two bars and complimentary breakfast. South beach is within walking distance.
Beyond this brief sample list of Key West clothing-optional resorts, there are other options for the more adventurous naturist. The Garden of Eden is a Key West roof-top night club bar on the third floor of the Bull and Whistle Bar on Duval Street. When the music and dancing begin after dark, those who choose may enjoy the natural experience of the night air against exposed skin. There are also options for, shall we call it, "bare-boat" sailing. Enjoy sunbathing at sea, hedonistic cocktail cruises, and even swim with wild dolphins while wearing the same swimming suit that they do – skin. There are plenty of options, so come on down and expose yourself to unclothed Key West.
Read More