Inside Five Brothers: The Old Key West Corner Store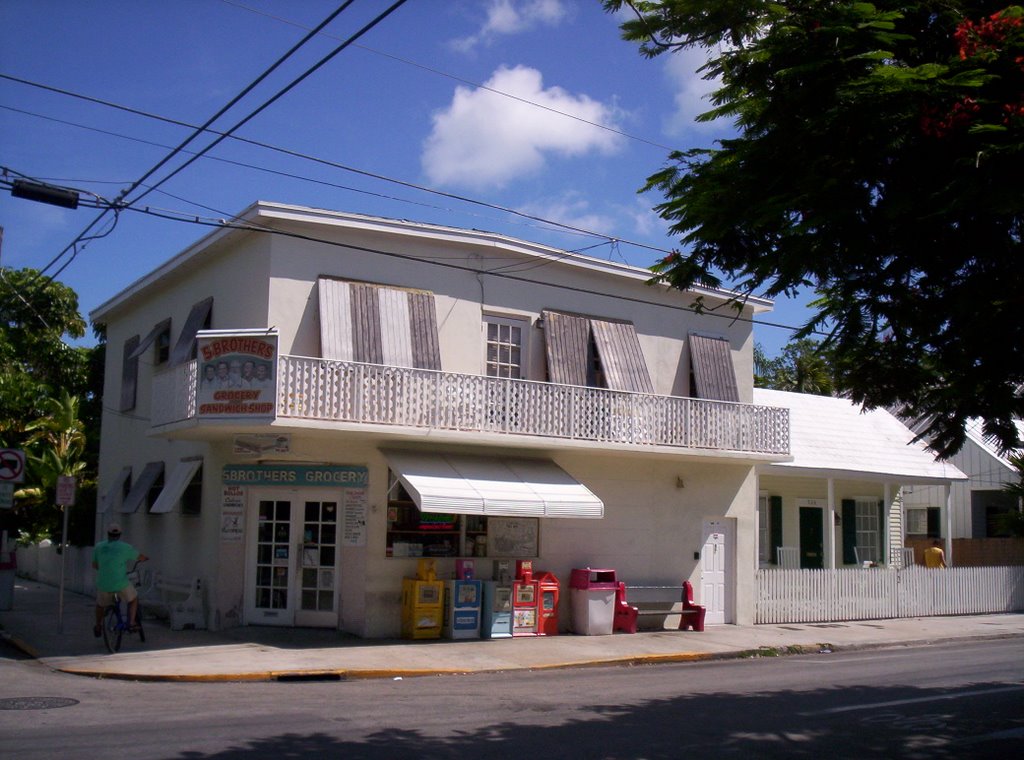 No visit to Key West is complete without a stop at the Five Brothers corner store for a Cuban café con leche and maybe a mixto sandwich as well. This classic little neighborhood grocery occupies a vintage building at Southard and Grinnell (930 Southard St.) in the heart of town, and locals and tourists alike have been dropping in for 23 years to grab coffees, sandwiches or lunch plates, groceries and sundries, and hand-rolled Cuban seed cigars. People drop by Five Brothers to catch up on town gossip and soak up the atmosphere as their Key West neighbors chat in Spanish and grab cups of the strong, sweet coffee brewed fresh from the 24 pounds of beans the store goes through every day.
A true family operation, Five Brothers is now run by the son of one of the original namesake 5 whose pictures make up the logo for the store. Be prepared to find a line of local working people and visitors when you drop in to sample the creations of owner Heriberto Paez Jr. and his family members. These hometown folks work six days a week to turn out the delicious coffees and authentic Cuban bread sandwiches like egg and cheese, fried grouper, mixed meat, palomilla steak, and roast pork. Besides sandwiches that have earned a solid reputation with everyone from Key West police and firemen, construction and utility crews, to retired millionaires and visiting celebrities, Five Brothers puts on daily lunch plate specials with treats like beef stew, chicken fricassee, picadillo, ropa vieja, and empanadas.
Prices are reasonable and with no tables, everything is grab and go, so this is the perfect place to pick up a picnic snack and head over to Mallory Square, down to the waterfront, or into the nearby historic cemetery. I find that the Cuban mix sandwiches do live up to their reputation as some of the best around, and the Fried Grouper and BBQ Pork sandwiches are also local favorites. And because this store caters to everyone, there's even a veggie burger that is pretty good. The food and coffee are well worth the wait if you happen to catch the line during the morning or lunch rush.
After placing your order, take a minute to browse the eclectic selection of groceries and dry goods that capture the Cuban flavor of Key West with items like votive candles, chorizo, domino sets, spices, guava paste, beans and rice, violet cologne, and wines from the screw-top to the fine. Or just stand in line and eavesdrop on the local gossip because this place is a real crossroads of island society. Like many others, you will probably find yourself returning multiple times because each visit is an interesting treat that goes beyond the great-tasting coffee and lunch. However, if you want to catch lunch by the pool or in your room, Five Brothers delivers from 7:00 am to 2:30 pm.
Enjoy the Cuban/Key West cross-cultural mix in the neighborhoods of Old Town with a stop at Five Brothers. Chances are you will put this little corner store on your must-visit list for every trip you make to the island.
Read More