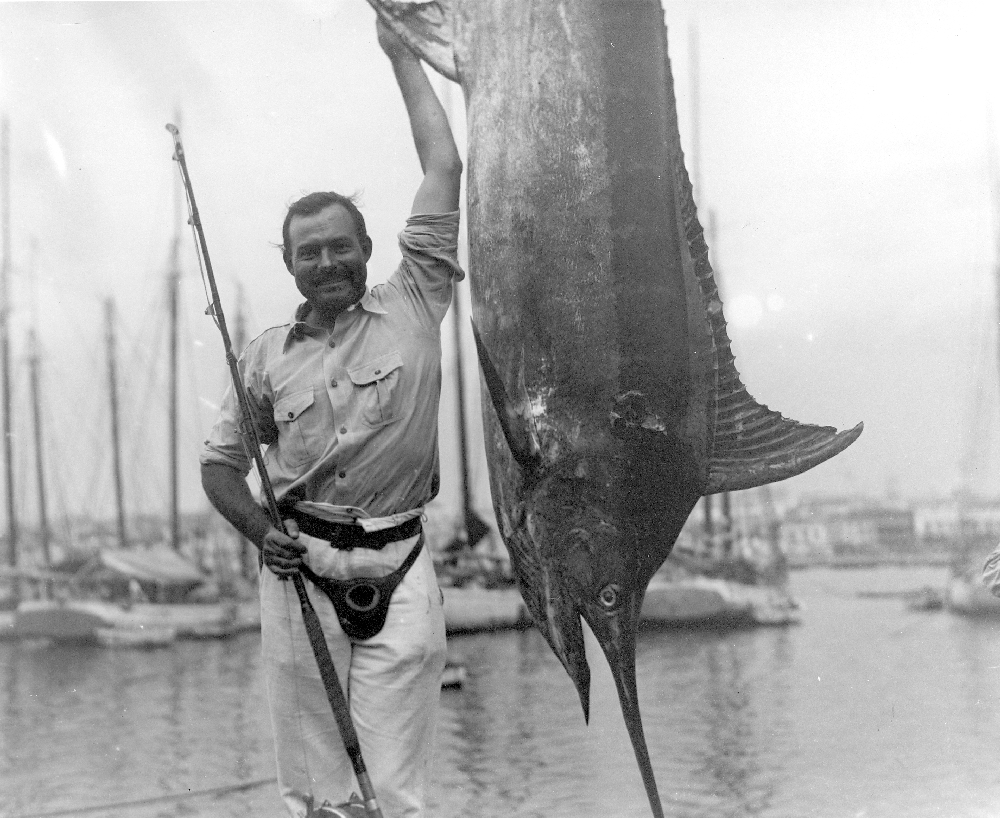 Key West is a hot, humid place in the summer, and it is hard to imagine what it was like to live here in the days before widespread air conditioning. For example, during the 1930's, when American literary great and all-around man's man Ernest Hemingway called the island and its ocean environs home.
Obviously, Hemingway, who volunteered for the front lines in World War 1, ran with the bulls in Pamplona Spain, and safaried in Africa back in the day when real men did not shoot until the lion or elephant was charging, knew a thing or two about handling tough conditions. And it is actually quite simple – you find a dimly-lit Key West Bar and spend most of the hot part of the day (which is all day in the Key West summer) inside drinking daiquiris and mojitos. As a bonus, the bar (ideally Sloppy Joe's on the corner of Green and Duval Streets) will nowadays have air conditioning, which if anything makes it easier to stay longer.
Unfortunately, the modern Sloppy Joe's is such a crowded tourist stop that it may be difficult to get a serious literary drunk on, so the erstwhile Ernests of today are either forced to search for more out-of-the-way dives or out into the summer daylight to participate in activities other than drinking. If you are one of these latter unfortunates, there is a reasonable solution: Key West's annual Hemingway Days.
This festive celebration of the author's larger-than-life has been going on in Key West for over thirty years now, and it centers around a Hemingway look-alike contest that is quite popular among large, loud white-bearded men from around the world. Upwards of 125 such men gather yearly at Sloppy Joe's to compete for the coveted title of Hemingway 2.0 in one of the several barrooms where the great man was fond of spending time drinking and philosophizing with his cohort of sport fishermen and generally macho individuals.
The festival has expanded to occupy 6 days of activities during mid-July including readings and book signings, an awards ceremony for the renowned literary competition directed by Hemingway granddaughter Lorian Hemingway, a one-man play exploring the literary legend's life, an exhibit of Hemingway memorabilia, and a three-day marlin fishing tournament. There is also a 3-mile ocean paddleboard race and a 5K Sunset Run, which in this author's opinion are questionable activities for anyone serious about following in Papa's macho footprints. Unless of course the paddleboard race takes place in shark-infested waters and includes Drinking at Sea.
Whether you are in fact a drinker, macho, or even a man, the Hemingway Days celebration is a great reason to visit Key West in the summer. Like all of the island's Festivals and Celebrations, a unique and quirky good time is all but guaranteed, and there is sure to be something fun for everyone to enjoy. Come on down to see the quieter summertime side of Key West, and learn why Ernest Hemingway and so many other authors and creative people have called this special town home over the years.
Read More