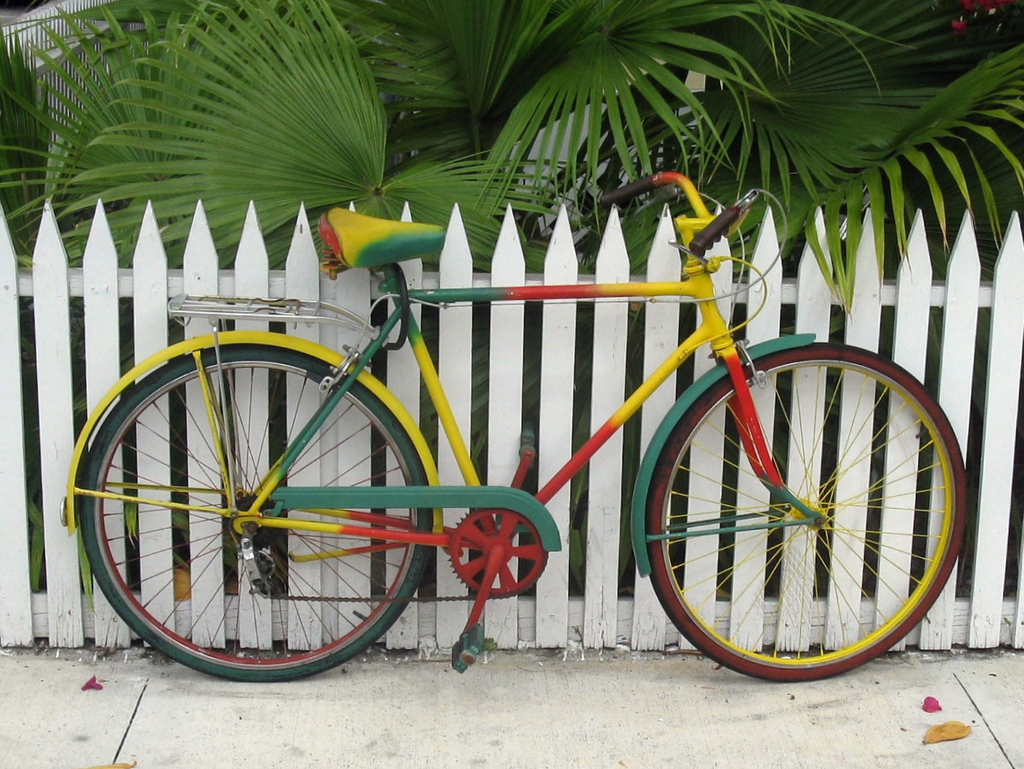 The island of Key West is small – only 4 miles long and 2 miles wide. It is flat, and the city itself is very compact. In addition, most things that visitors want to see and do are located in close proximity, so moving from one to another is quick and easy even by walking. On the other hand, driving is difficult because traffic is heavy and parking is scarce. All things considered, as long as the weather is fairly dry and not too windy, Biking Key West is absolutely the best way to get around the island.
Perhaps the strongest support for this argument is the fact that the bicycle is the Key West local's choice for island transportation. There are bike shops everywhere offering sales, rentals, and repairs; there are bike racks at nearly every popular destination, and there are plenty of bike paths as well. Key West is often called a "bike town", and the name is well deserved. On the other hand, Key West as a "car town" is a nightmare. Yes, there are cars aplenty, in numbers far too great for the size of the island. Streets are small, traffic is heavy and clogging, and parking is non-existent. Many hotels and inns on the island do not even offer parking for paying guests. A quick search of this topic on any of the online travel guides will find visitor after visitor saying "don't bother with a car" or "leave your car at the hotel". It is advice to heed if at all possible.
There are also pleasures unique to Key West Biking that go beyond mere transportation. Winding through the quiet residential streets taking in the lush foliage and greenery, drifting fragrance of blooming flowers, and interesting architecture of historic homes is a great tourist activity in itself. There is also the sublime enjoyment of pedaling through the cool morning air down to the café for coffee, arriving and parking without a hint of stress, enjoying breakfast then continuing on with your day, maybe with the morning paper and some fresh tropical fruit in your bike basket. Or throw a towel, a book, and a picnic lunch in that basket and cruise the strip along Smathers Beach. A wide sidewalk runs the length of the beach, and the sights go from crowds of tourists on one end to more natural beauty and some interesting houseboat neighborhoods out on the other end. And of course Fort Zachary Taylor is a good beach to bike out to.
These are just a few of the many upsides to biking around Key West. For vacationers, the most important thing about biking is the total escape from the work-a-day world of cars, traffic, commutes, and parking. Just getting into a car can put you back in work mode, and that is the last thing you need when you are in Key West. You want to toss that aside and replace it with fresh air, exercise, and the ability to smile at people and greet them as you pedal by.
There are many ways to get your hands on a bike in Key West – it is impossible to miss them. In fact, many island accommodations have bikes on site or will arrange to get you and a bike together one way or another. Of course, use common sense and bike safely. Practice a bit in a quiet parking lot if you have not ridden in a while. Put helmets on children. Avoid riding at night. Take the quiet back streets whenever possible. Perhaps the most difficult safety rule to follow is to always pay more attention to where you are going than to the sights of Key West. But thousands do it every day and you can too. So be sure to give Key West Biking a try.
Read More