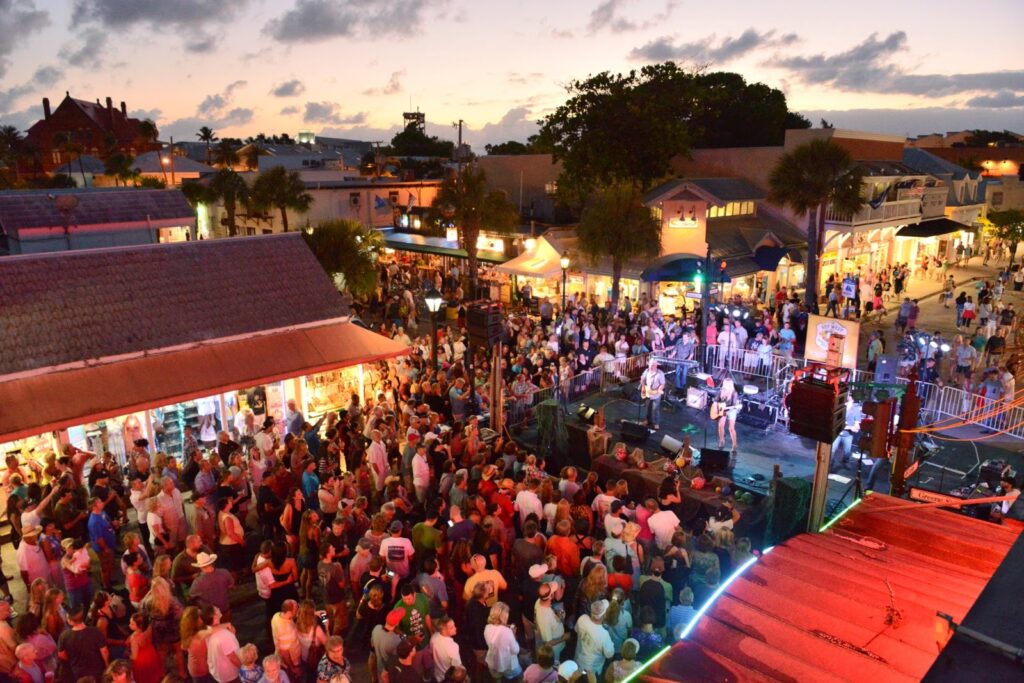 Key West boasts a live music scene that is sometimes said to rival those of Nashville and New Orleans. The island is home to many talented musicians, and many more visit each year. Local artists and world class acts alike can be found on stage any day of the year in a multitude of venues. From the blues to calypso, country-western, hip hop, jazz, reggae, retro, or the Keys' own trop rock, something is always happening around town.
For the lucky folks who will be in Key West the week of May 3-11, and those who love outdoor music in tropical settings enough to make sure they will be there, the best musical happening in the Keys is set to go off. The week will kick off at 5 pm on Saturday, May 3rd, with the second annual Keystock Festival bringing rock legends The Doobie Brothers and local favorite Howard Livingston to the Truman Waterfront on the end of Southard Street in Key West.  Maybe we are showing our age here, but for those who may actually not know the Doobies, they are old school rockers with 40 years, 4 Grammys, and international hits including "China Grove," "Black Water", "Listen to the Music", "Long Train Runnin", and "What a Fool Believes" under their belts. To open the show, Howard Livingston and the Mile Marker 24 Band will break out their outboard motor-powered margarita blender and apropos tunes like "Blame It On the Margaritas" and "Livin' On Key West Time".
Keystock is the latest addition to an already great Key West music scene, and it is the creation of a collaborative effort by Alabama native Joe Cleghorn, owner of the Lazy Lakes RV Resort on Sugarloaf Key, musician Howard Livingston, Cleghorn's business partner Dave McGlathery, and the staff of Lazy Lakes. For several years, Cleghorn and crew had been putting on concerts at the RV park, bringing in artists such as Jerry Jeff Walker, Mac McAnally, and Blood Sweat & Tears, along with hundreds of music lovers to enjoy sunshine, good tunes, and good times in the quaint setting of Lazy Lakes.
As the crowds grew, ideas about bigger venues and larger objectives began bubbling, including forming the non-profit Homes For Veterans, Inc., and using a music festival to raise the funds to award a paid-in-full home to a selected military veteran. With some inspiration from country music star Cowboy Troy of Big and Rich, and some Nashville connections, Keystock was born in 2013 when Livingston and the Mile Marker 24 Band opened for Three Dog Night and thousands of fans at the Truman Waterfront.  Now, what is already being called the greatest concert series in the Keys is set to bring it again, and do it for a good cause, with The Doobie Brothers in town with the kind of showmanship that has sold over 40 million albums.
The bands play on from May 7-11 when fans and performers from across the country hit town for the Key West Songwriter's Festival. The Festival is by far the largest musical event held in Key West, with 5 days of performances and special events on tap. The biggest songwriter festival in the US, organized by BMI Nashville, America's largest music rights organization and a major incubator of new talent and new music, the Key West festival pulls in many of America's finest songwriters from Nashville and elsewhere. Over 150 artists will entertain fans from afternoon to evening. The event features many special shows including studio performances, sunset cruises, shows at the historic San Carlos Institute and Tropic Cinema, pool parties, a champagne brunch performance, a dinner show, and free street concerts. There is something here for every live music fan, and it is a chance to meet the artists behind some of your favorite songs.
If you love live music, and want to see some great bands in a tropical outdoor festival setting, the first week in May is the time to come down to Key West. Make plans now and don't miss two great Key West Music Festivals.
Read More