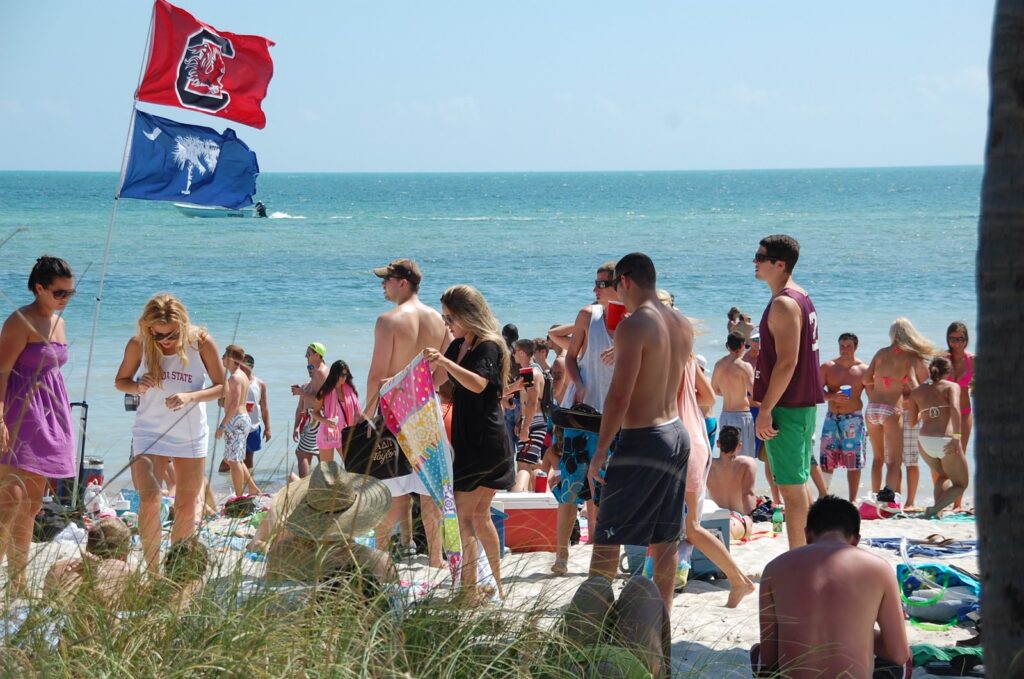 Depending on your personal perspective and proclivities, this post may be taken as either an invitation or a warning, so read and heed or disregard at your own risk. For better or worse, the Spring Break season opens in Key West (and Florida in general) in early March. Although Spring Break is a nation-wide phenomenon, some useful Florida-specific kickoff dates include March 3 for the University of Florida, the University of Central Florida, Florida Memorial University, Florida Southern College, and Florida Gulf Coast University. Florida State University, the University of Miami, and the University of South Florida all let out on March 10, while Florida Keys Community College goes on break March 24.
There it is – a solid month of hyped-up college students hitting the island looking for sun, sand, sex, and altered states of consciousness, in no particular order. Once considered too isolated to compete with traditional northern Florida Spring Break sites like Daytona Beach, Fort Lauderdale, and Fort Meyers, Key West has drawn today's more travel-ready Spring Breakers for a number of years already. It doesn't hurt that Key West knows how to party no matter what the season, prompting some to observe that "It's always Spring Break in Key West." Fortunately (or unfortunately?) the period between March and May is the best time to visit Key West. Winter crowds thin out, hotel rates go down, and the weather is still very nicely set in the 70s and 80s. Skies are generally clear, and the temperature trend is upward. Whether you are a college student or not, spring is an inviting time to be in the Keys.
If you are a member of the Spring Break set, here are a few general Key West tips to help guide your planning. First of all, Key West is known for its quirky and fun-loving sensibility and tolerance for diversity, as well as for boisterous good times. It is no problem to bust loose a bit, as long as you get along with the locals. Try to pick up on the vibe and fit in rather than taking over. The place is laid back and chill is the way to play it. There will be plenty of opportunities to turn up the craziness as the night goes on, and there are crowds of locals who are ready, willing, and able to party with the best of them if you find the right spots.
Next, there are a couple of beaches that are the best places for large groups of people to fit in, hang out, play games, and get in the water safely. Smathers Beach draws the majority of Breakers, and the beach party goes on until the sun goes down. Vendors on the beach can supply everything needed for a good time, from beer to lemonade, jet skis to parasails, and more. Smather's Beach is free and located directly across from the airport and the Sheraton Suites, a Key West hotel popular with students. A mellower beach spot is Fort Zachary Taylor, a State Park and picnic grounds located in Old Town Key West. There is a small admission fee, but reentry is allowed, and the natural setting and scenic beauty of the beach make it ideal for a relaxing day in the warm sun and soothing water after a hard night out.
Something to be aware of with all Key West beaches is the fact that open containers are not allowed, and the city will issue tickets for infractions. Also, there are no nude beaches in Key West, and there are often families with children around, so it is best to keep minimally covered. Finally, the beaches close at 11 pm and they are regularly patrolled, so it is a good idea to pack up shortly after sunset and take the party to Duval Street, where you can check out a mile and a quarter of shops, boutiques, galleries and a huge selection of bars and nightclubs.
For visitors who are not in Spring Break mode, the best advice is to either reschedule your trip or go with the flow and enjoy the lively, youthful atmosphere. It is actually not that bad, or anyway not that much different than most of the other exuberant, festive occasions encountered in Key West. In fact, Spring Break on the island has actually calmed down a bit, as indicated in a Miami Herald article that noted efforts by Key West City Commissioners to bring back Spring Break Court. Canceled in recent years due to diminishing need for its services, the court had been convened annually from 1991 to 2007 in order to provide an alternative venue for dealing efficiently with minor offenses such as underage drinking, using false ID, and public urination.
Young or old, student or drop-out, gay or straight, no matter what your thing is, it is always going to be more fun to do your thing in Key West. So the best advice for Spring Break season is to come on down, get in the island groove, and join the party that only Key West can put on.
Read More