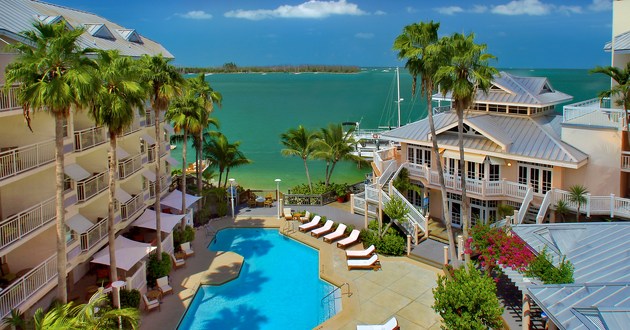 The beachfront Hyatt Key West Resort and Spa is located in the Old Town district with Duval Street only a block away, and Mallory Square within two blocks, both an easy walk from your room. Guests often refer to this resort as the "Oasis off Duval". The beautifully landscaped grounds feature a charming courtyard with coy and turtle ponds.
Check availability at Hyatt Key West Resort & Spa
This newly renovated Resort is the ideal location for exploring the sites of Old Town, while still staying within a private retreat. Each of its 118 guest rooms feature private balconies, tiled entry foyers and ceiling fans, along with a host of other amenities including, a flat-screen cable TV, small refrigerator, complimentary high-speed wired and wireless Internet access and bathrooms with rainfall showerheads.
Hyatt Key West Resort Dining
Hyatt Key West Resort and Spa has 2 restaurants, both offering a million dollar view of the Gulf of Mexico and the glorious Key West sunsets: The SHOR American Seafood Grill is the restaurant to experience fine dining in Key West. SHOR has been awarded "Best of Key West" – Best Seafood Restaurant and Best Lunch. At the Blue Mojito Pool Bar and Grill guests can enjoy a casual meal in a tropical, open-air bar beside the tranquil pool with plush designer chairs surrounded by swaying palm trees. Discover lots of good times, delicious drinks and social interaction at the Blue Mojito.
Jala Spa at Hyatt Key West Resort
Guests of the Key West Hyatt Resort can also pamper themselves at the Jala Spa with a selection of deluxe services; including massages, facials, enhancements, and body treatments – or they can stay in shape at the resort's fitness centre which has a fully equipped gym and provides a comfortable environment to maintain their workout routine. As if that isn't enough, they can parasail, snorkel, and Jet Ski from two piers, plus sunset cruises are available on a 60-foot sailboat…Or, they can just relax and spend a day in the sun at the swimming pool. Harry S Truman's Little White House is opposite the resort and the Ernest Hemingway Home and Museum is less than 1 mile away.
This elegant, comfortably restyled resort embraces the warm hospitality of Key West and is sure to treat its guests to a new level of sophistication, in a breathtaking locale.
[light_button url="http://travel.insidekeywest.com/hotel/?rs_hid=40397″]Book This Hotel[/light_button]
Read More