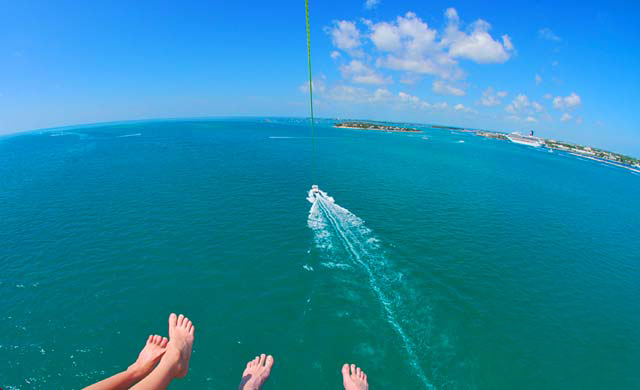 Parasailing in Key West is among the very favorite activities for those visiting Key West. It's safe and very popular and one of the fastest growing sports in the country, and you can join in the fun.
People unfamiliar with parasailing assume it's scary but actually, it's quite the opposite. Parasailing is very serene and peaceful. Take-offs and landings are slow and gentle, making you feel as if you are truly "floating on air". You'll be securely harnessed to a parachute-like canopy (known as a Parasail). The Parasail is attached to a towrope, which is then pulled along by a boat. When the boat's speed exceeds the canopy's stalling speed, the parasail rises up, hoisting the pilot high up into the air at just under 600 foot for a breathtaking bird's-eye view of this enchanting island and its surrounding emerald blue waters.
As you float along on the tropical breezes you may be able to watch dolphins playing in the surf below, turtles swimming beneath you or colorful tropical birds soaring past you. Although each "flight" typically lasts 8 – 10 minutes the experience will last a lifetime. Such a beautiful silence just floating up in the sky and taking in all the views, (don't forget to bring your camera)!
No previous experience is required and the helpful and friendly crew provides top-of-the-line gear and free coaching, making this safe fun for the whole family. You can arrange to go solo, or arrange a tandem, even triple flights when you check in. Note: The total weight limit is 450 lbs. for solo, tandem and triple parasailing flights. Children must be at least 6 years old and/or 90 lbs.
In addition to parasailing and other Key West Watersports, Key West is known for its Luxury Hotel Accommodations, Fine Dining Establishments, Funky Bars, Museums, Historic "Old Town", Duval St. and Mallory Square along with a host of other "on-land" activities and fun things to discover.
Whether you're with family, friends, business associates or alone, there's never a shortage of things to do in Key West.
Read More